Make your Membership even more rewarding
Earn 1% of the amount of your regular purchases* in CAA Dollars® every time you use your National Bank® CAA Rewards® Mastercard®. Use your CAA Dollars to renew or upgrade your CAA Membership, purchase attraction tickets, pay for your next family getaway and more.
Discover the Advantages
Earn 2% in CAA Dollars on most CAA Products and Services1
Earn 1% on eligible purchases in CAA Dollars2
No annual fee3
0.9% introductory interest rate for the first 9 months4
The convenience of TAP & GO™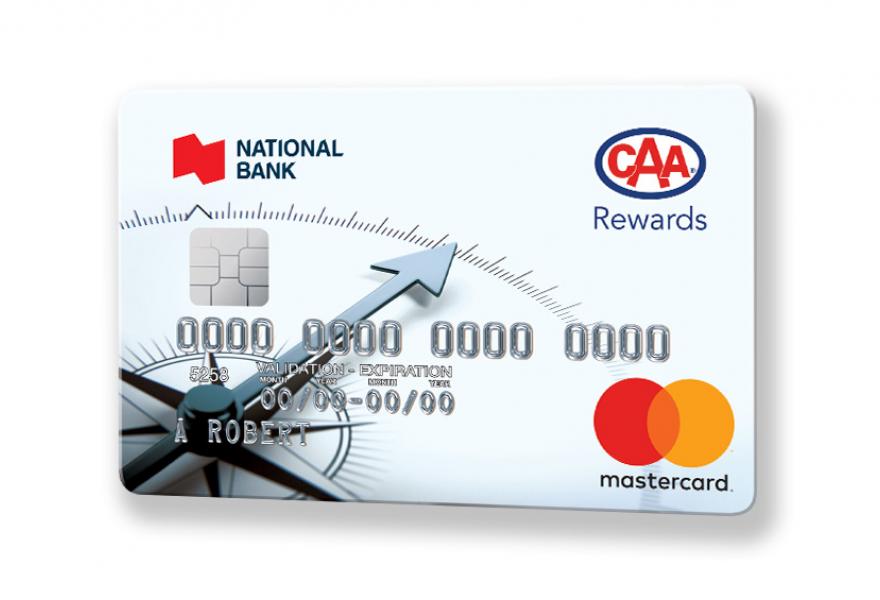 Credit Card Payment Protection Plan
Wouldn't you like to know that your credit card minimum monthly payments would be covered in the event of a difficult situation, such as losing your job or becoming disabled? Sign up easily for the Credit Card Payment Protection Plan offered with your CAA Rewards MasterCard credit card.
* See CAA Rewards MasterCard Program Terms and Conditions
®/™ Mastercard and Tap & Go are registered trademarks, and the circles design is a trademark of Mastercard International Incorporated. Authorized User: National Bank of Canada
® CAA, CAA logo, CAA Rewards and CAA Dollars trademarks owned by, and use is authorized by, the Canadian Automobile Association.
© 2021 National Bank of Canada. All rights reserved. Any reproduction, in whole or in part, is strictly prohibited without the prior written consent of National Bank of Canada.
1 The offer is subject to the CAA Rewards Mastercard Program terms and conditions and applies to primary cardholders of National Bank CAA Rewards Mastercard credit card who are in good standing with respect to National Bank and CAA Club. Primary cardholders may earn CAA Dollars equal to 1% of purchases made by cardholders at participating CAA Stores by using the National Bank CAA Rewards Mastercard in addition to the CAA Dollars normally earned under the National Bank CAA Rewards Mastercard Program, for a maximum of 2% of purchases in CAA Dollars. Travel and vacation purchases are not eligible for this offer. Participating CAA Stores are listed on each CAA Club website. National Bank reserves the right at its sole discretion to change or terminate this offer at any time without advance notice.
2 Terms and conditions apply. Visit www.nbc.ca/caa for full details. You earn CAA Dollars equal to 1% of eligible purchases made using your CAA Rewards Mastercard credit card. At the end of each month, your CAA Club will receive information on the accumulated CAA Dollars from National Bank. Your CAA Club is responsible for the issuance, administration and redemption of CAA Dollars in accordance with its terms and conditions. CAA Dollars are not earned on cash advances, balance transfers, cash-like transactions, Mastercard cheques, payments, credits, interest charges, credit insurance premiums, foreign exchange fees and other fees and charges. CAA Dollars are not earned on any purchases prohibited by the laws of Canada or any other country. You will qualify to earn CAA Dollars as soon as your card is activated and purchases are made, unless your account is not in good standing, your account has been suspended or terminated, or other qualifications for eligibility are not met.
3 Grace period: No interest will be charged on purchases made during the month, provided the client pays the balance in full within twenty-one (21) days of the statement date. This grace period does not apply to cash advances or balance transfers. Minimum payment: If your account balance is lower than $10, you must pay the entire balance. Your minimum payment represents 2.5% of the credit card account balance plus any overdue payment or $10, whichever amount is higher. 
4 A 0.9% interest rate on balance transfers and cash advances for the first 9 months after account opening. After that, the current annual interest rate on balance transfers and cash advances will be applied, which is currently 22.99%. The annual interest rate on purchases is 20.99% as of January 1, 2019*
CAA Dollars Terms & Conditions
To earn and redeem CAA Dollars, you must be a current CAA Member in good standing (CAA Membership dues paid in full by membership expiry date). CAA Dollars cannot be converted into currency at any time, and cannot be used to purchase CAA Premium Batteries, or to pay any amounts owing on your CAA Rewards® Mastercard®. Do not let your membership lapse or you will forfeit any accumulated CAA Dollars. Your CAA Dollars will be automatically redeemed towards your CAA Membership renewal dues.