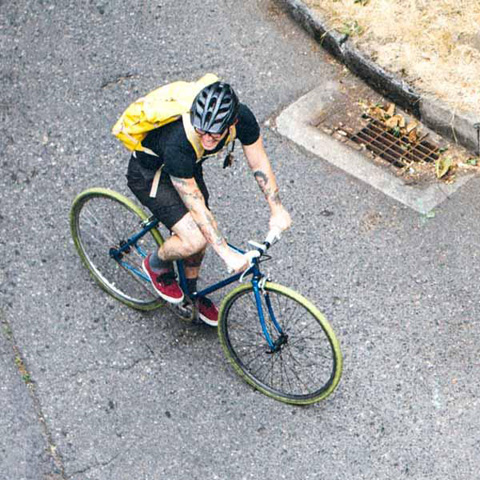 Heading (H2)
Roadside Assistance for you and your bike
Getting stranded by a flat tire or broken chain while you're out for a bike ride is a major hassle. Whether you use your bike to commute, run errands or just to get around, CAA Niagara's Bike Assist program offers the same peace of mind that comes with our roadside assistance. If you experience a breakdown, simply call CAA Niagara's Emergency Road Service and we'll send one of our Light Service Vehicles equipped with a bicycle rack.
Bike Assist is FREE to all CAA Niagara Members.
CAA Bike Assist offers peace of mind for cyclists
Where is service provided?
Bike Assist is available anywhere CAA Niagara regularly provides Emergency Roadside Service. We will pick up a rider and bicycle at the nearest point of accessibility, based on regular road access. We are unable to provide service to inaccessible areas such as parks, dirt bike trails, private or non-passable roads.
How far will you tow me and my bike?
Service distance will reflect your level of Membership:
Basic Members up to 10 km, Plus Members up to 250 km, Premier Members up to 500 km
Will drivers fix my bicycle?
Unfortunately, bicycle repairs require special knowledge, expertise and tools, and we are therefore unable to fix bicycles at the roadside. Bike Assist is only designed to get the cyclist and the bicycle to safety. 
Will CAA unlock bicycles or cut securing devices?
We will not cut locks, as the ownership of the bicycle cannot be verified.
Will you tow me and my bicycle if it starts to rain?
Bike Assist applies when a cyclist has experienced a breakdown and is not designed for cyclists looking to avoid challenging terrain or inclement weather.
Does Bike Assist cover motorized bicycles?
Yes, provided they are conventional bicycles with standard pedals and chain and mounted with an external electric geared motor. Motorcycles, electric scooters & mopeds are covered under Plus and Premier Memberships only.
Will we provide Bike Assist service to underage children?
Service for underage children will only be provided if a parent/guardian, with a valid CAA Niagara Membership, is with the child.